Best Drive Ireland – Ring of Kerry
maire
Drive the Ring of Kerry
The Ring of Kerry is possibly Ireland's top driving route taking in some of the country's most dramatic scenery. It runs for  179 km on the Iveragh Peninsula which stretches out into the Atlantic Ocean and is world-famous for its dramatic landscapes, sparkling seascapes, colourful towns and villages and impressive ancient monuments.  You can drive it easily in half a day but it's better to take your time so you can stop off to admire the unforgettable views, enjoy the atmosphere in some of the villages and maybe take part in some of the activities offered.
Most people start their trip from the popular town of Killarney. The town itself has loads to offer including bike rentals which are ideal for an easy trip around Killarney National Park or you can take a guided tour around the national park where you can visit Muckross House.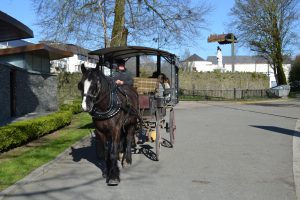 From there you will travel via Killorglin where you are truly on the Ring of Kerry. This attractive town is famous for the annual Puck Fair which takes place in August and is one of the three ancient festivals of Ireland.  You can't miss the statue of King Puck (goat) beside the bridge over the River Laune and if you visit from August 10 to 12 you can see the goat ruling over the town from his elevated stage in the town centre.
The road out to Glenbeigh gives you great views of the McGillicuddy's Reeks to your left. You pass over peat bogs and why not stop off at the Kerry Bog Village on the right just eight minutes from Killorglin.  Glenbeigh is a popular centre for fishing the local rivers, Caragh Lake or for a bit of sea angling. If just passing through why not stop to visit Rossbeigh Beach for a stroll or a horse ride along the strand. Kerry's new Greenway is scheduled to open in the next few years and it will start in the town of Glenbeigh
What to Do:- Drive the Ring of Kerry in a Classic Car . In Killarney take a Guided walk in the park or go horse riding in the morning before heading off on Ring of Kerry drive. Bike hire for a cycle trip around the Ring of Kerry can be organised.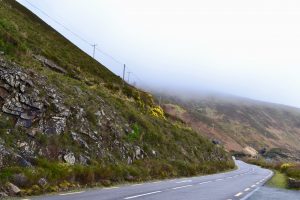 Killarney to Glenbeigh
From here the drive is varied and you enter the Kerry International Dark Sky Reserve just before reaching Dingle Bay. There are great vistas across to the Dingle Peninsula and a number of long laybys where you can safely pull in to admire the views.
What to Do:- Lickeen Wood on the N71 has some great walks as do Carragh Lake.
 Glenbeigh to Caherciveen
The next town along the Ring is Caherciveen, and on the way, you will pass beautiful Kells Bay which is ideal for swimming and fishing. Caherciveen is an attractive long town with a magnificent church called after Daniel O'Connell and the renovated Barracks dating to the 1870s. You can visit the beautiful Blue Flag White Strand beach that looks out towards Valentia Island and close by are Cahergal and Leacanabuaile Stone Forts.  To visit Valentia Island you can either take the ferry from nearby Reenard Point or drive on to Portmagee and use the bridge there to cross.
What to Do:- Beeteen Loop Walk is just outside the town of Caherciveen.
Caherciveen to Sneem
From Caheriveen the next town is  Waterville which overlooks broad Ballinskelligs Bay and is a good spot to stop for food if you're doing a quick drive around the Ring. If you plan to stay longer Waterville is a good base for fishing either in nearby Lough Currane or at sea where a local boat operator will be happy to take you out for a day. If golf is your game then Waterville Golf Links will be a big attraction and there's also the newer Hog's Head course offering great views of the bay. The Charlie Chaplin statue in the town centre marks his regular stays here in the 1960s and there's a Charlie Chaplin Film Festival in August each year.
The road ascending from Waterville offers some of the best views on the entire Ring of Kerry. On a clear day you can see the famous Skellig Islands beyond Bolus Head. In the valley below, you'll see Loher Fort, another dry At Coumakista you reach the highest point on the route so far (215 m)  and get even more dramatic views of Derrynane Bay and its islands.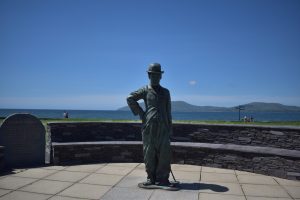 Caherdaniel is the next tiny village and close by is the famous Derrynane House, home to Daniel O'Connell, the Liberator. Derrynane's Blue Flag beach is very popular.  O'Carroll's Cove Beach 2.5km on is another beautiful spot to stop off for a swim or a bite to eat in the beachside bar/restaurant. In good weather, it feels almost Mediterranean. A small road (boreen) to the right near here will take you up to the impressive Staigue fort which may date back to 300 to 400AD.
What to Do:- Visit Derrynane House and take a Walk along Derrynane Mass Path.
See the Bray Head Skellig Viewing point on Skellig Ring, one fo 15 Signature Points along the Wild Atlantic Way.     Take an Eco Boat trip around Skellig.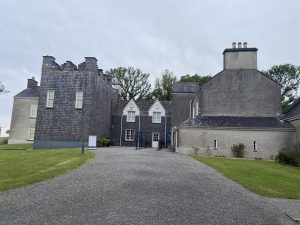 Sneem to Kenmare or Killarney
You have lovely coastal views much of the way to the tiny village of Castlecove and dramatic mountain views from there to Sneem, a Tidy Town winner and one of the first Irish towns to paint its houses in different colours. Stop off here for a snack and to enjoy the sculptures on the village greens on either side of the river.  For a touch of old-world luxury visit the five-star Parknasilla Resort and Spa just outside Sneem. It has beautiful sea views and a 12-hole golf course, two tennis courts, a small beach, and beautiful walks and trails for guests to explore.
From Sneem, you can take either the R568 inland to Moll's Gap and enjoy dramatic mountain vistas or continue on the N70 to Kenmare.
What to Do:-
Sneem to Kenmare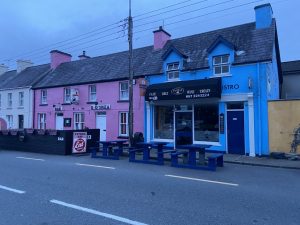 The drive from Sneem to Kenmare on the N70 takes about 30 minutes. This is one of Ireland's prettiest small towns with great restaurants and a good pub scene and nestles in some gorgeous scenery. Kenmare also has two golf clubs, the Ring of Kerry Golf Club and Kenmare Golf Club. Being located along both the Kerry Way and the Beara Way it is a walker's paradise with a choice of routes catering to walkers of different ability levels.  You can even trek the 16km  Old Kenmare Road route back to Killarney if you have someone to drive your car back.
Kenmare is also well known as the start and finish point for the Ring of Beara Cycle event that takes in the beautiful Beara Peninsula. It runs in May and offers a 110km route and a longer 140km route. 
What to Do:– Take a Walk in Gleinchaquin Park. Take a Night Kayak at Glengarriff. Do a Chocolate Workshop near Kenmare.
Molls Gap to Killareny
To return to Killarney follow the N71 and 10 km on it's worth stopping for photos at Molls Gap where you get glorious views to the north. It's also got a branch of Avoca which stocks high-quality goods and has a wonderful restaurant with panoramic views. From here the route through dramatic scenery becomes increasingly twisty as you make your way down by the Lakes of Killarney. Ladies View is an ideal stopping point for photos and gets its name from  Queens Victoria's ladies in waiting who visited in 1861.
When you pass by Muckross Lake and the road straightens outlook for the sign for Torc Waterfall to the right. It's a short hike up a set of sets to view Kerry's best-known waterfall. Not far beyond here, you'll pass the entrance to the Muckross estate and another 10 minutes should see you back in Killarney with all it has to offer.
The Ring of Kerry Cycle is a popular Kerry event that attracts over 10,000 participants on the first Saturday of July every year, making it Ireland's largest one-day charity event. 
What to Do:– Stop to take lots of photos of the famous views at the pull-in points.
Take a Walk at Torc Waterfall, just off the road before the entrance to Muckross House and Gardens. The gardens are well worth visiting at any time of the year and the walled garden is a joy for photographers and gardeners.
 To help plan your holiday in Ireland and the Ring of Kerry contact Activity Days Ireland for the best local experiences and accommodation.