Best Beaches Achill Island
maire
Best Beaches Achill Island  
The rugged wild windy coast of Mayo is remote, unspoilt and beautiful. A train from Dublin can take you directly to Westport or hire a car to drive all the way to Achill Island. Bike hire at Achill Island and Westport, including some Electric Bikes to cycle the Great Western Greenway.   The area has few shops or facilities so if you plan to spend a day driving through the area you might want to bring food with you. There are many stunning picnic spots and some beaches, not all of which are suited to swimming due to the strong currents and waves.
The beaches to the west coast of Mayo on  Achill Island are stunning with empty sandy beaches. There are no wheelchair buggy in co Mayo but the Co Council provides access at some beaches via ramps. The island of Achill is stunningly beautiful with long sandy beaches, great walking and lots of sheep. Details of all the beaches of Mayo on our longer Blog
Achill Island Beaches
On the N59 south of Ballycroy National Park and about 40 minutes drive from Westport is Achill Sound.  Thi bridge to Irelands largest island Achill  Islands is well signposted off the  N 59. Cycle the Great Western Greenway from Westport or take 2-3 days to cycle Achill Island as well, bike hire organsied for all the family.
Achill Island has 4 beaches of renown and the highest cliffs in Europe. Achill is about 1 hours drive from Belmullet across the bogs and 40  minutes drive from Westport. The Great Western Greenway stretches from Westport to Achill sound and can be walked or cycled.  Ballycroy National Park and wild Nephin is just above Achill on the Wild Atlantic Way. The beaches of Achill are all sandy and welcoming
1  Doonega Beach
is on the northern side of the island on a small coastal inlet. This blue flag beach has an access ramp for disabled people, though no disabled toilets and does not have a lifeguard in summer. Suited to swimming with a ramp for disabled access.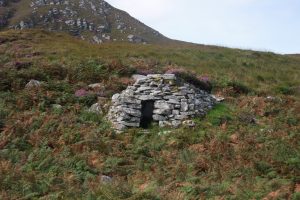 2   Silver Strand at Dugort
GPS Lat 54.01227 Long 10.0177
This beach is  3km east of Dugort village,  the 2300 meter beach has some stone as well as sand below the high tide mark and rocks and stones on the upper shore.  With a lifeguard in summer this  Blue Flag beach is on a semi-exposed site.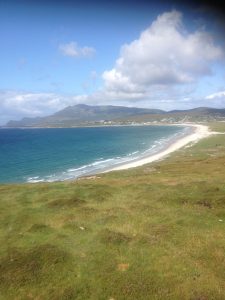 3  Keel Beach Achill 
GPS Lat 53.97185, Long 10.0736
In the village of Keel 7km from Achill Sound on the island is a long sandy open stunning beach facing south of over a 1km long.  Turn left from the main road  R319 and the beach is 200 meters in front of you, with a long car park behind the dunes. The long Blue Flag beach is great for walking, swimming and water sports but has no disabled facilities. Lifeguard in summer and easy access from the car park to the beach for disabled users.  Food and drinks in the village but one of those beaches made for a picnic on.
4  Keem
 

Beach Achill

 

GPS. Lat 53.9666 Long -10.1936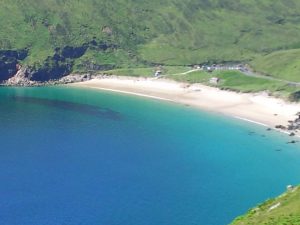 Drive or cycle the full length of Achill Island, until the road goes no further west! Keem beach is 17 km west of the bridge at Achill Sound and described by Lonely Planet as one of Europe's best beaches. 'This half-moon bay of golden sand at the foot of steep cliffs and grassy slopes. Basking Sharks sometimes sighed offshore.'  
Keem beach is a small jewel of a beach 300m long down the winding lane, with car parks and notice boards on each bend. Can turn at the car park by the beach, and may have to park at one of the upper car parks. There is a ramp for disabled people to the water but no disabled toilet facilities.  With the highest cliffs in Europe to the western end of the island this sheltered east-facing beach is a gem. Cycle the length of Achill Island to this beach for a rewarding swim. A lifeguard is on duty in summer and there are lots of sheep in the area. Can get very congested in high summer. The drive to this beach at sunset is magical as the sun sets to the west.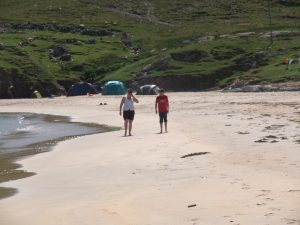 5. Mulranny Beach
GPS.     Lat 53.8999  Long 09.7759
This popular beach south-west of Mulranny village signposted from the R319  and north of Westport Town on R59 has a Blue Flag. The beach is close to Achill Island and has been included as a result. Near the North-Western Greenway route can cycle from Westport or Achill sound. The beach is 370m long with stone at the upper beach with a sandy beach at mid to low tide. For disabled people, there is no disabled toilet but there is an access ramp to the sea.
Contact us with any comments on this post- we love recommendations.  Thre are guided tours for individuals and groups can be organised in Co Mayo -  contact ActivityDays.ie