Best Beaches in Co Cork – Wild Atlantic Way
maire
In  Co Cork,  Ireland's most southerly county, the fresh sea air smells of the salt of  the Wild Atlantic Way. The sea is clean, free to enter and on the most popular beaches there are lifeguards, courtesy of the Co Council. We do not have private beaches in Ireland and we do not have a  hire service of sun umbrellas or sun loungers! The weather can be windy, and a windbreaker and a rug are the best things to bring to the beach.  Some beaches have a high range between high and low tide. The tide washes up shells and seaweed after strong winds or a storm. In warm summer weather jellyfish can be a problem on some beaches. Irish people may ask why I have written these details – but having been to a few Mediterranean beaches has given me a great appreciation of the quality of Irish beaches.
The Sunday Times has a list of the best beaches in Ireland and only lists 3 beaches in Co Cork – Garretstown, Inchydoney and Barleycove. Here is Activity Days more detailed list of Cork beaches with the best reason to visit. Not all beaches are suited to families or those with young children, as the waves may be too strong. Some beaches are great for swimming, others for surfing, birdwatching or for walking.
We have put Blue Flag 2020 besides all those who were awarded this international status for water quality, environmental management and safety. You will see that we consider some better than others for family, swimming or activity. These ratings come from years of local experience. The  list is  not comprehensive so please send details of any we have forgotten to add. There are some great beach shacks, cafes and restaurants serving food near some of these beaches.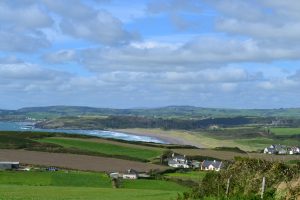 East Cork Beaches
Youghal Claycastle Beach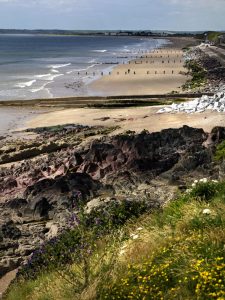 Youghal Front Beach is a gently sandy beach with a narrow area of marsh/dunes (part of Ballyvergan Marsh). Ballyvergan Marsh is located to the west of the beach. Beach boardwalk recently upgraded- great for a walk any time of the year
Good place for a bracing swim as waves can be large and there are old wooden wave breaks which need to be avoided.
Redbarn Beach &  Ballyvergan Marsh
The coastal resort of Redbarn is located approximately 2 kilometres south-west of Youghal and is situated within an area comprising considerable natural and scenic amenities. Great for Family and Swimming
Ballyvergan Marsh, which is located to the north of Redbarn, is a proposed Natural Heritage Area. The marsh is of particular importance as it is the largest freshwater coastal marsh in County Cork, and accommodates important plant and bird species. Good for Birdwatching.
Garryvoe Beach, Ardnahinch Beach, Ballycroneen Beach, Whites Bay Beach, Inch Beach
Near Ballynamona beach and Shanagarry are 3 beaches- Garryvoe, Ardnahinch and Ballynamona beaches, To get to them take the R632 off the N25 in Castlemartyr for Ladysbridge and Garryvoe. There is a big car park at Garryvoe and gets very busy in summer. Ardnahinch beach (Blue Flag2020) can be accessed via the village of Shannagarry and is quite. All the beaches are sandy and Garryvoe has a playground beside the car park.
Best for  Family & Swimming
Ballycroneen beach is near Ballycotton and which can be accessed via the village or the Ballycotton Cliff Walk and is used by dog walkers. Suited to Dog Walking.
For families White Bay at the foot of Roches Point, the lighthouse at the entrance to Cork harbour. Between the villages of Whitegate and Roches point is a car park, which has a path down to Whites Bay, which is best a low tide with a wide sandy beach. Suited to Families.
Inch Beach ( Blue Flag 2020) is near Midleton in East Cork. The sandy beach has dunes and rushes behind it and is 9km south of Midleton.  Best for Dog Walking Surfing
Beaches Close to Cork City
Fountainstown
Fountainstown Beach (Blue Flag 2020)  is located on the South Cork coast, west of the entrance to Cork Harbour and on the northern side of Ringabella Bay. Fountainstown is a traditional seaside resort, some 15km from Cork City. There are actually two beach areas at Fountainstown. Bunnyconellan Bar and restaurant nearby do a range of food with views of the entrance to Cork harbour.
Great for a swim after a days work in the city.  Lifeguards on duty.
Rocky Bay 
Rocky Bay ( Blue Flag 2020) is approximately 300m wide from end to end, located near Minane Bridge, Cork. It is an open beach facing South-South East. The sandy beach area makes this location a popular amenity. Access is via a narrow entrance from a narrow local road. The area is very popular all year round but in particular during the summer season. Parking is very limited so on warm days in the summer the area can get quite congested.
Good for Swimming.
Oysterhaven Beach
On the coast between Minane Bridge and Kinsale is Oysterhaven Beach (Blue Flag 2020) which has an activity centre using the beach each day. As a result, it is not the most relaxing beach to sit on with small children.
Best suited to Teenagers
Garrylucas Beach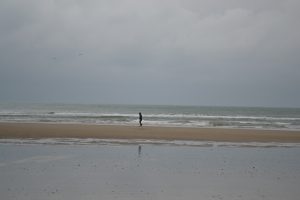 Garrylucas, White Strand is a sandy beach with sand dunes in part.  It is located beside the R604 road and adjacent to Kilcolman Marsh and the Old Head of Kinsale and within a short distance of Ballinspittle by car.  Public parking and toilets are provided adjacent to the beach and lifeguards are on duty during the summer season.  Access to the beach by ramps and steps.
Best for Swimming and a family day on the beach.
Garretstown Beach
Garretstown is a sandy beach. It is located on the R604 and adjacent to Kilcolman Marsh and The Old Head of Kinsale and within a short distance of Ballinspittle village by car. Public car parking, toilet facilities and lifebuoys are provided at the beach. Lifeguards are on duty during the bathing season. Access to the beach by ramps and steps. Wheelchair access is provided.
Suited to Swimming and a family day on the beach.
Inchadoney
East Beach Inchydoney  (Blue Flag 2020) is located 4km from Clonakilty Town.  The beach is popular with bathers and windsurfers.It is on the southeast side of Inchydoney Lodge & Spa Hotel and to the east of Virgin Mary Point. It is a large, expansive, sandy beach. The beach is bound to the north by sand dunes and to the east by rocky cliffs. To the west of Virgin Mary Point is Inchydoney beach where the restaurant at Inchadoney Island Lodge does lovely food all day
Inchadoney Beach is Family Friendly,good for Surfing and swimming at the beach.   Lifeguards in summer.
Red Strand 
Red Strand Beach  ( Blue Flag 2020) is near Rosscarbery, west of Clonakilty. Drive to the beach to a small car park where surfers can be found all year round. No lifeguard.  Suited to Surfing
West Cork Beaches – West of Clonakilty
Owenahinca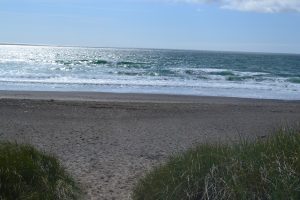 Owenahincha is a sandy beach backing onto sand dunes. The main route to approach the beach is from Clonakilty on the N71, Turn off at Burgatia Cross onto the R598, which leads down to the beach. It is an exposed beach and the sea can be quite rough at times. Public car parking and public toilet facilities are provided at the beach. There is a short pleasant cliff walk between the Warren Strand and Owenahincha.
Best for Family picnic's and swimming.  Lifeguards during summer.
The Fish Basket Beach shack at nearby Long Strand does great fish dishes – not suited to swimming 
Warren Strand Roscarberry
       The Warren is a sandy beach located at the mouth of Rosscarberry Bay and accessed by turning off the N71 at Warren Cross. There is a pitch and putt club adjacent to the beach. Public car parking, toilet facilities and lifebuoys are provided at the beach.        
Suited to Families  with parking in car park at top of the beach. Toilets and short path to the beach. Lifeguards in summer.
Cadogan Strand
Cadogan Strand  (Blue Flag2020) is a small sandy beach just before Schull town and accessed via a Telly Tubby style Garden, designed by Diarmuid Gavin. Beach suited to use at low tide only and most locals go to Ballyrisode, Barleycove or Galley Head as they are more relaxing with small children.
The Three West Cork Headlands
Ballyrisode Beach, West Cork
Ballyrisode Beach is located 11km west of Schull Town, on an inlet of Toormore Bay (Blue Flag 2020).
Take the Goleen Road and after the Oska Outlet Shop take the right down a narrow lane to the beach. Drive in as far as the car park and turn and then find parking along the lane if the small car park is full. There are  2 beaches, each approximately 150m in length with soft sand. The grass area between the beaches is a good place for a picnic and watching children when the tide is out!
My Favourite family beach with small children. Very safe and shallow beach with rocks to climb on at low tide with fishing nets.  No facilities so bring your own picnic. 
Barleycove, Mizen Head, West Cork.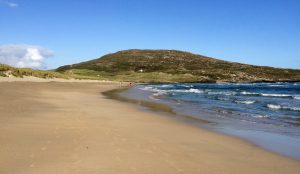 Barleycove Beach in West Cork near Mizen head Lighthouse is a wide sandy open beach with gentle to large waves breaking along the beach. The access is via the hotel or a designated car park with toilets and path across dunes to the beach. Popular in summer, with lifeguards for safety, due to its size it never feels too full. Bring a picnic
Go Surfing or swimming, great beach for a ball or other beach games.   Lifeguards on duty in summer.
Galley Cove beach is located on the eastern side of the Mizen Head Peninsula in West Cork, approx. 1.5km south-west of Crookhaven. 
Galley Cove Beach is a sandy east-facing beach, approx 120m long ( Blue Flag 2020)
The beach backs onto extensive sand dunes. Also, small beach at Crookhaven for small children while you have food at O Sullivans.
Suited to family groups with young children, Small Beach, easy parking.   See where Marconi sent his transatlantic signal from.
Dooneen Pier, Kilcrohane on the Sheeps Head.
The nearest town to the pier is Kilcrohane. It is very suitable for swimming and diving as it is a sheltered pier and sand at low tide (Blue Flag2020).  Access to the sea is via steps.  It is very popular for fishing as there are plentiful supplies of mackerel.  
The Sheep's Head Way walking route has over 90 km of marked trails and transverses the headland from Bantry to its tip at a lighthouse. There are walks here for all abilities.
 Best for good swimmers.   Coffee at Food Truck at the start of Walk to Sheep's Head Lighthouse.
Garnish Beach Beara Peninsula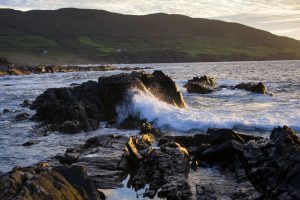 At the western end of the Beara peninsula in Garnish Beach ( Blue Flag 2020) Allihies is a sandy beach, great for children and families. The Mines Museum has a history of Mining in the area and has a lovely cafe.
Parking just beside the beach and beside the picturesque village of Allihies.
Best for Family with young children and swimming