Best Food Markets around the World
maire
Foodie Cities around the World
Having Travelled around the world in the past 20 years there is always a go to artisan food destination for each city. I was quite surprised at a recent article on the foods and cities listed so decided to come up with my own listing! These are some of the best artisan food markets around the world.
England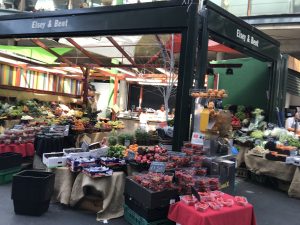 Borough Market –
Borough Market near London Bridge is open Monday to Saturday, and 7 days before Christmas. There has been a market here for 1000 years with a wide variety of producers- cheese, honey, meats, fish, flowers and more. Lots of places to eat around here. Gastro tours of the market and cookery workshops.
Brick Lane & Columbia Road Markets –
Take a tube to the Columbia Road flower market on Sunday mornings. Then continue on to Brick Lane for a wide variety of multi-cultural foods. There are many other markets flowing into one another in the area with Backyard Market, Sunday Upmarket, Vintage clothing market nearby. There are gastro tours of the market and cookery workshops. 
Don't forget to look for the street art on the lanes off the market- by Banksy and many other artists.
France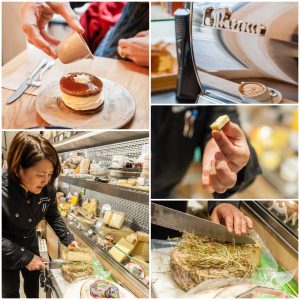 Paris Guided Tour of Market
On Sunday morning in Paris the guide takes you by Metro to a market where the Parisians shop for food. Buy little morsels from many stalls each selling small quantities of produce they can guarantee- cheese, grapes, cooked chicken and meats. Visit a Boulangerie and a Vin du Cave and sit and eat a picnic in a square. Live like a Parisienne.    parissweetparis.com
Marché aux Fleurs Cours Saleya, Nice.
This market in Nice is ranked as one of the top culinary markets in France. In a beautiful square of Belle Epoque buildings, 30 meters from the sea you can buy all your groceries. There are many restaurants surrounding the square and you can sit, enjoy a delicious lunch and people watching. A very special location.
       nicetourisme.com/nice/1396-marche-aux-fleurs-cours-saleya
Denmark
Copenhagen –
Torvehallerne is a city centre fresh food market with local produce. Nearby Tivoli Food Hall is ideal for sitting down to eat. torvehallernekbh.dk/
Greece
Crete –
Eat fish fresh from the sea and freshly picked tomatoes in big bowls of salad, fish fresh from the Mediterranean lightly grilled or fried. Finger licking food.
Germany
Berlin –
The Arminiusmarkthalle opened in 1891 and serves fresh produce as well as a varied street food market with many different cuisines. Blutwurst and Schnitzels are a delicious treat.Street Food Thursday takes place in Markthallen Neum where the best beer, wine food and culture is served from independent food stalls.
Eisenbahnstraße 42/43, 10997 Berlin
Ireland
Cork – 
The English Market, Cork- Spiced beef, farmhouse cheese and oysters fresh from the shell. Collect a picnic lunch for lunch or take a  guided food tour with Activity days.   englishmarket.ie 
Italy
Bologna –
Mercat di Mezzo in the city centre streets. Pasta, parmesan cheese, meats and lots of ice cream.
Venice – 
The Mercato di Rialto on Venice's Grand canal has a wide range of fish stalls early in the morning. Beside it are many stalls selling a range of fruit and vegetable which are brought in by boat each morning.
On Campo san Banaba there is are fruit and vegetable barges selling right off the barges as you walk along the quays of Venice.
Netherlands
Amsterdam –
Great vegetarian cooking, but my favourite is still a pot of steaming mussels with bread.
Spain
Barcelona – 
Mercado de la Boqueria on Las Ramblas in the city centre. Lots of fresh food stalls – fish, meats, vegetables and plenty of tapas and tasting plates available at many stalls.  Make sure to check the prices of the tapas!   boqueria.barcelona.
USA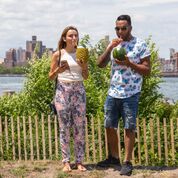 Brooklyn, New York –
Buy your lunch, sit on the grass watching the hustle and bustle of the New York skyline. Best Bao Buns in the world. This is eating rather than produce market.
Rent bikes and cycle to the World Trade Centre. www.smorgasburg.com
Australia
The Farm, Woodford Lane. near Byron Bay, New South Wales.
The Farm has amazing food almost all grown on site. It's the most beautiful place where you can walk around the farm, see the livestock, visit the almond groves, veggie patches etc. You can buy produce to take home. They offer tours of the farm, educational horseback tours and private farm tours. They grow, feed and educate on growing food and farming.
They offer two dining venues, casual deli style share tables or a restaurant with table service. They even have an in-house large chicken who wanders from table to table and will sit on your lap as you eat.
Nightcliff Jetty and Pool, Darwin, Northern Territory.
Walk 10 mins from Darwin city centre, along the seashore at Nightcliff Jetty and Nightcliff Pool you'll find a fabulous range of food, with many countries represented as it is so multi-cultural here. Try an amazing Greek Yiros filled with lamb while you sit on the beach. Also Rapid Creek Market for fresh fruit and vegetables. Watch the sunset – and here is the magic – because you are so close to the equator, the bottom of the sun 'touches' the water and within 37 seconds, it is gone. It seems to literally drop into the sea.
My next foodie place to visit is Matera in southern Italy, European Capital of Culture 2019 and a great place to eat Cucina Povera cuisine. Do you have a favourite artisan food market not listed – please send us the details to add to the list.