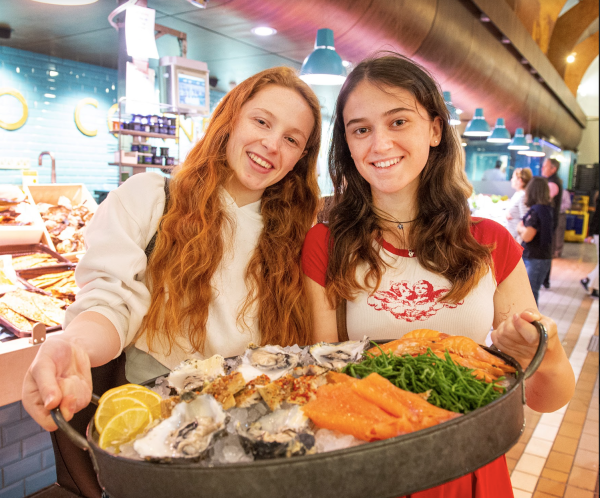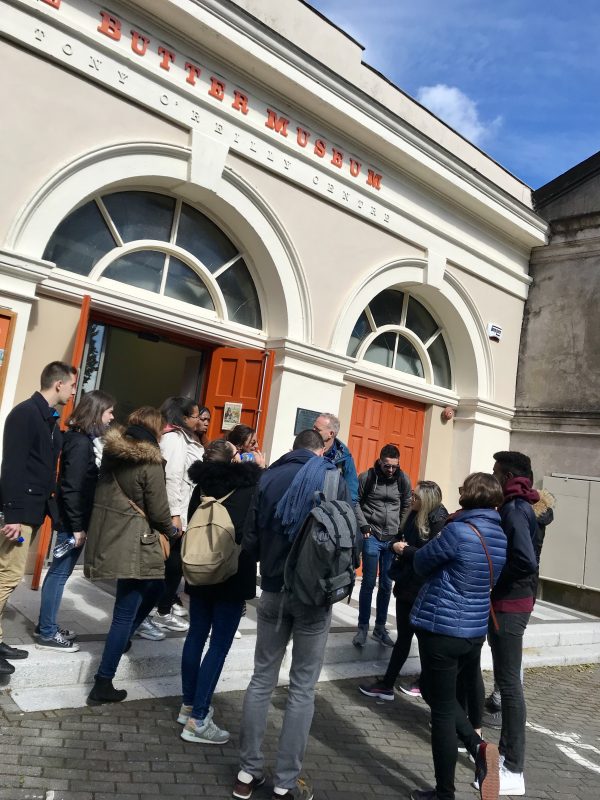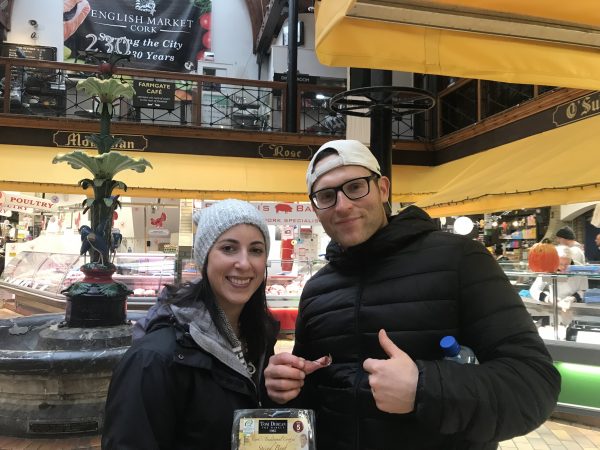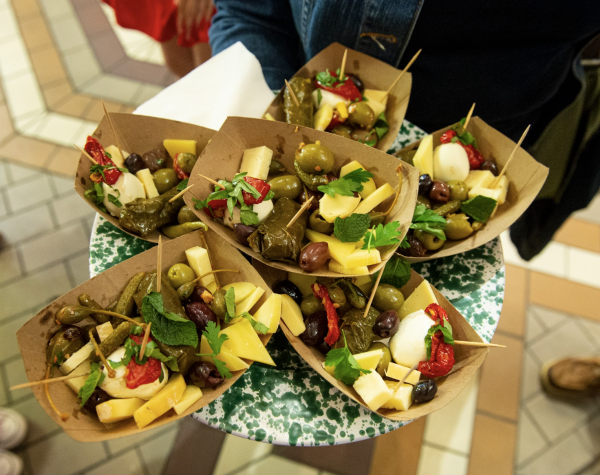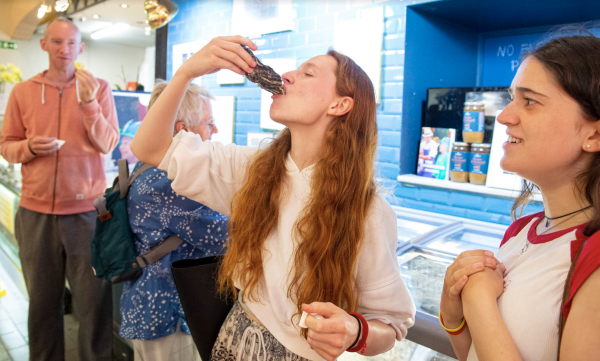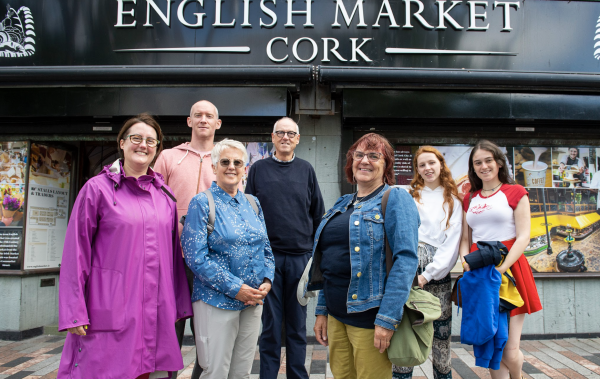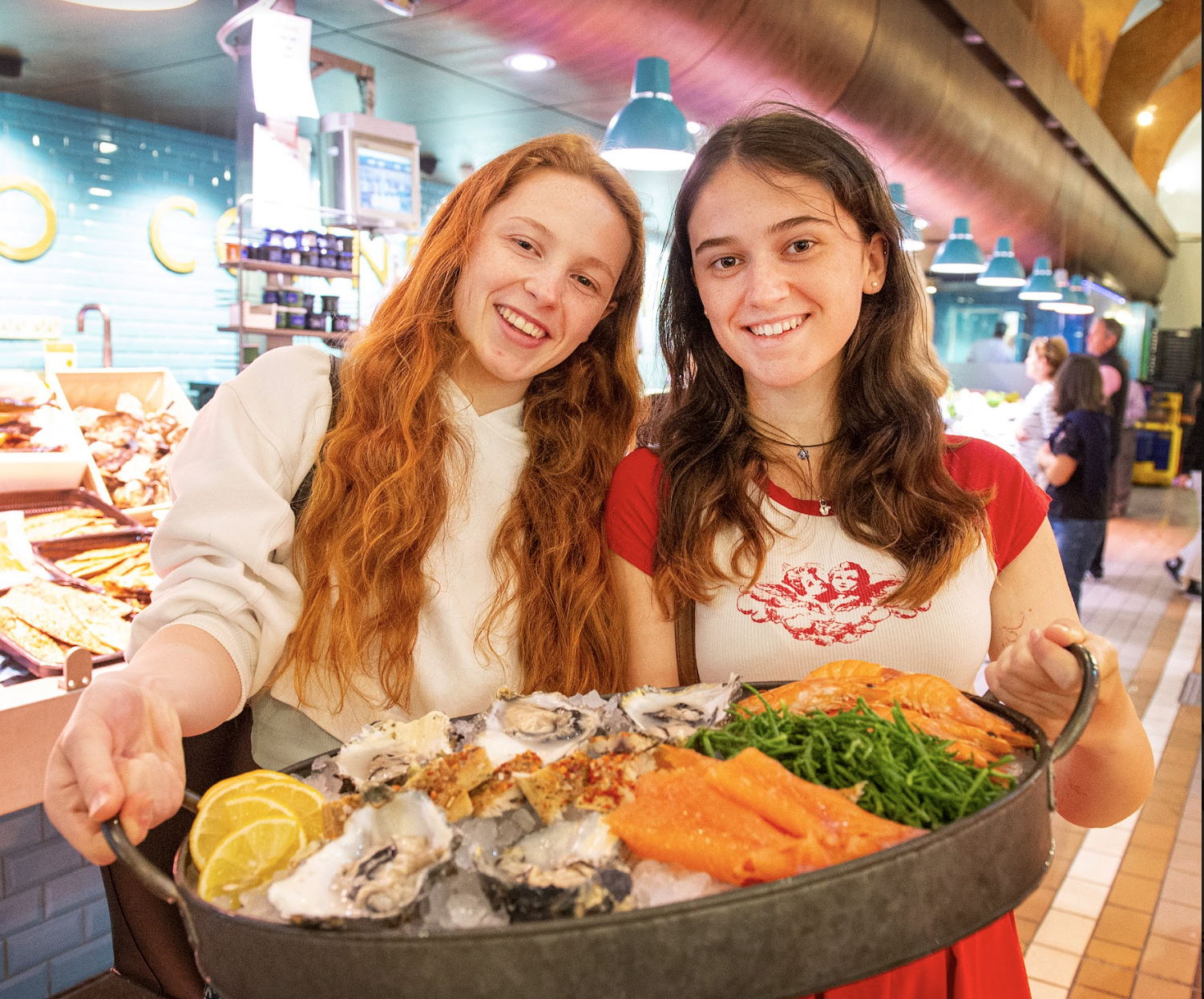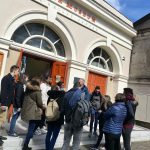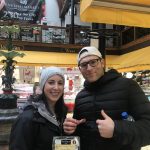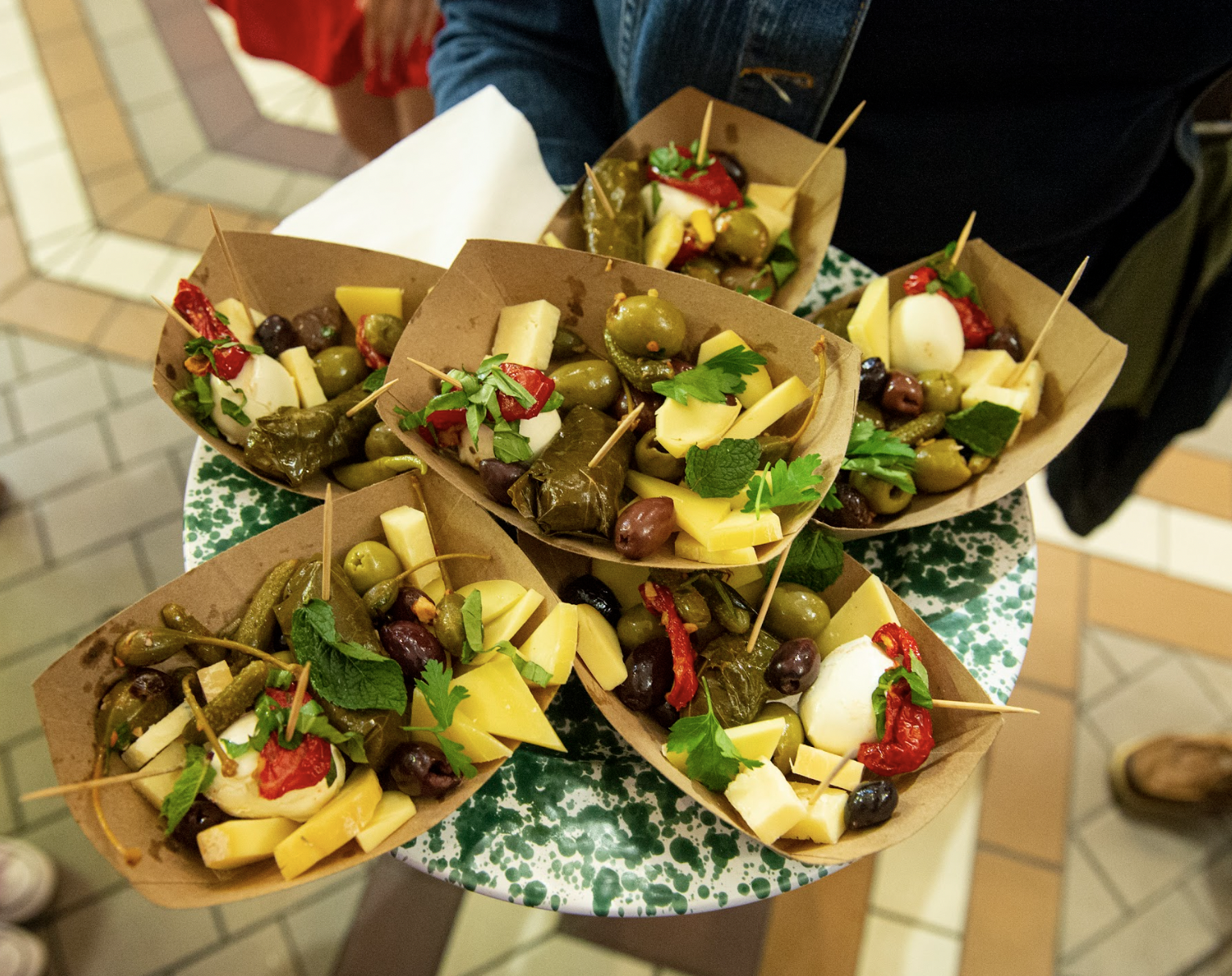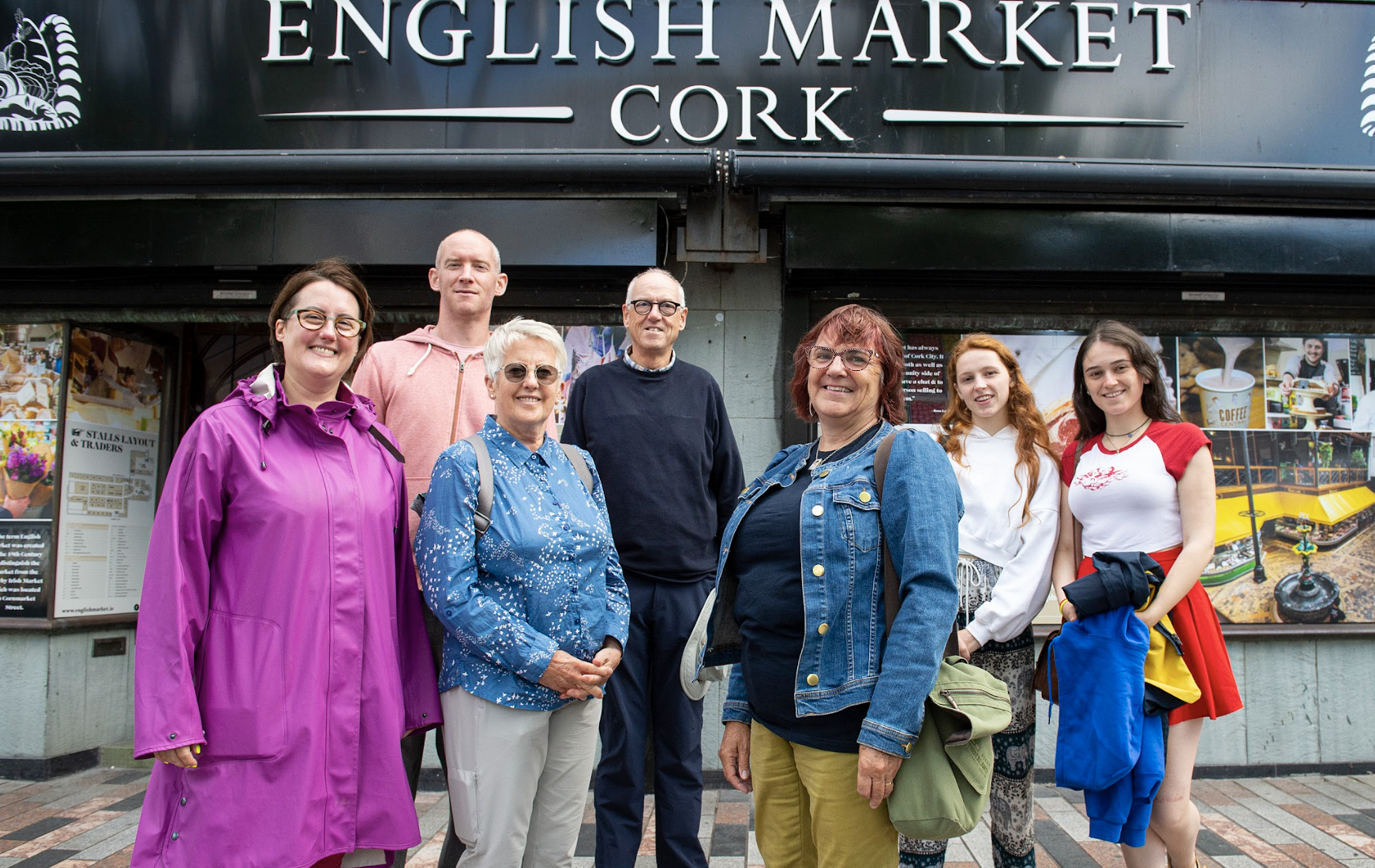 Cork Food History Tour
Cork City Food History Tour takes you on a 2-hour walking tour of the city center with food tastings along the way. We visit the English Market and the  Butter Museum, with stops for tasting and chat.  This is a walking tour of Cork city with commentary on the food and drinks history of the city going back to Viking days. See where the merchants lived and traded in times past as the city developed from the confines of its medieval walls. The English Market is central to the food history of the city and we meet some of its key traders and taste their wonderful foods.  Includes entry to the Butter Museum and tasting of 5 different types of products in the English Market.
Optional extra to add a sandwich or a picnic hamper from the English Market  (pre-ordering needed).
Food Tasting at   people from English Market and the option to order freshly made artisan sandwiches
Tours Tuesday, Wednesday, and Thursday at 10.00 am.
Min 2 per booking.  Group tours by arrangement.
Prices from €59PP
Under the fun and insightful guidance of local food expert, chef, home economics teacher and native Irish-speaker, Maire Ní Mhurchu, learn about Cork's food heritage and how it has developed over the past 300 years. During a walking tour of this maritime city, you will visit the Crawford Art Gallery as well as the Butter Museum where you will learn the history of Irish Butter, known as "yellow gold".
Finish the tour with a stop at the iconic English Market. Meet some of the key traders while collecting samples of delicious local produce at 4 different stalls including cheeses, fish, to taste along the route. Option to take away the foods below or have a private tour at another time.   
Option to take away the following:-
1. Sandwich from the English Market pre-ordered with some of the amazing food of the market.
Choice of 4 Flavours – from Spiced Beef, Vegetarian or Cheese per sandwich €8.50 each
2. Gluten-Free Food option with Gluten-free picnic box for 1 person €20pp
3 A picnic box for 2 people of 3 local cheese, bread, traditional spiced beef, olives, cake for a picnic. Get the real flavor of Cork city €25pp
Things To Do
Price / Group Size
We Provide
Good To Know
Disability / Accessability
Reviews (0)
Things To Do
Price / Group Size
Tour Times
By arrangement
Departure & Return
Meet Guide at your hotel or at a central place.
Price
€69 per person
GROUP SIZE
Minimum 3  Maximum 24
We Provide
Food tastings at selected stalls in the English Market. Meet and chat with the characters of the Market. Tour of UCC campus. Main course lunch in a city centre restaurant serving the foods of Cork.
Good To Know
This tour starts a Cork city centre location or city Hotel of the Corporate group.
The client decides on the exact route of this tour and we can offer options for places to see in Cork city.We know Cork city very well and can make a range of suggestion on booking. You can also avail of a guide for a half or
full day Tour from Cork city.
This tour is for adults only as there is alcohol involved and over 18 years of age.
The food provided is a lunch, in a city centre restaurant serving local food
produce.If you have anyone in the group with special dietary needs please advise at booking or after booking so we can consult the chef. The same is true for those on a Vegetarian or Vegan diet and we many have to modify the restaurant visit for the whole group as a result. You choose what you eat from a menu provided by the restaurant on arrival at the premises.
As the restaurant is booked for a specific number well in advance of the trip we ask that you advise us at once if the number in the group increases or decreases at least a week before the trip.
Fitness Level 2 for this tour due to some walking and steps on city streets, please advise if one of your group is in a wheelchair.
Cancellation Policy – this tour can be booked and refunded up to 5 days before the tour starts. Money will be refunded to the paying card, apart from a €5 booking deposit per person booked.
At Activity Days, our priority is your safety, well being and enjoyment of this activity. Please note the following;
It is your responsibility to bring adequate clothing, footwear and equipment where specified. Please note that the guide may refuse participation in the activity if you fail to do so and your activity fee will not be refunded.
It is your responsibility to ensure that you meet the fitness criteria prescribed for this activity. Please note that the guide may refuse participation in the activity on this basis and your activity fee will not be refunded.
Please note that we and our guides reserve the right to refuse participation in the activity if you are intoxicated, if refuse to comply with the instructions of the guide, if there is a risk to your safety or the safety of others for any reason, or are deemed unfit or unable to participate (in the reasonable opinion of Activity Days or the Guide). In this event, your fee will not be refunded.
Please refer to our terms and conditions of sale for more information.
Disability / Accessability