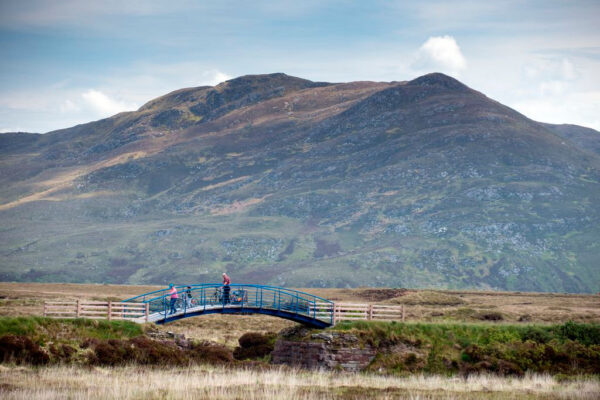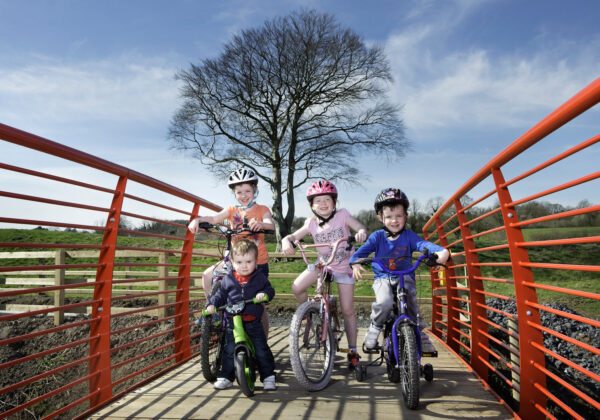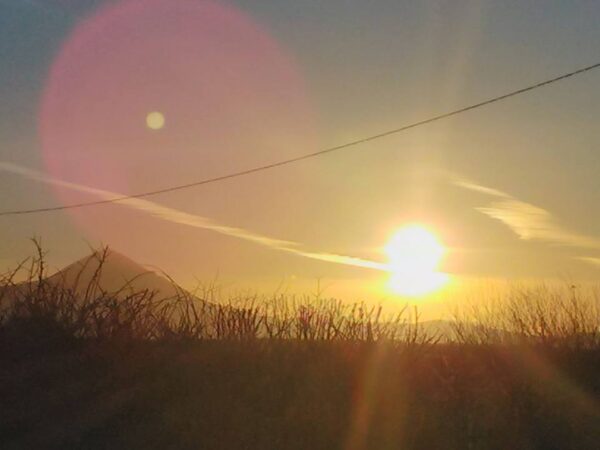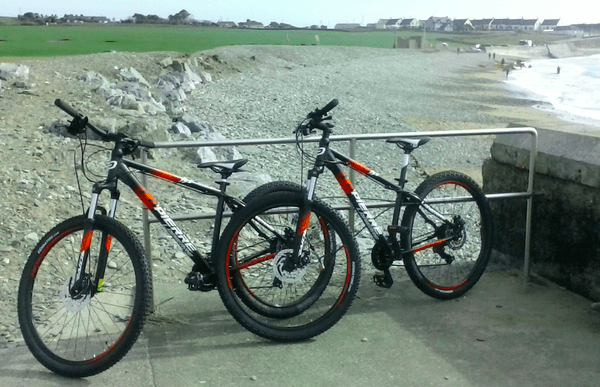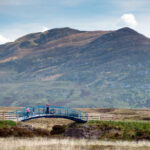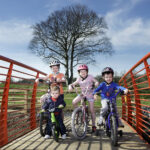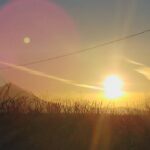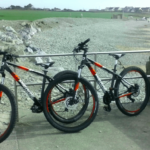 Cycling or Walking Tour Great Western Greenway, Co. Mayo
Meet your Guide at Sage Courtyard Cafe for a coffee and scone at 10.30 on a Satuday morning
Prices from €50 PP
The Great Western Greenway is Ireland's longest walking and cycling route at 43.5 km. It is nearly all off-road  and follows the route of the old GreatWestern Railway which closed in 1937. The surface is solid all the way, being either tarred or compacted. The route  from the heart of Westport town to Achill Island passes through breathtaking scenery with gentle gradients visiting Newport, Mulranny and on to Achill Sound. It is safe to stop along the route on the off-road sections. This route can also be walked. 
Here are details of timings of the stages of the route and places to stop for food or overnight. We also offer to collect at Westport and drive to Achill sound with the bikes so you can cycle back to Westport, which is more downhill. A good cyclist can cycle the full route in 4 hours without stops.
Westport to Newport  12.5km -The greenway starts in the town and takes 1 -1.5 hours  to reach  Newport. For walkers it will take 3-3.5 hours .
Newport to Mulranny  -18km – Takes 2- 2.5 hours to cycle or 5 to 5.5 hours walking.  Starting across a viaduct  you will get views of Clew Bay, Clare Island and Nephew Beg mountain as you cycle along.
Mulranny to Achill Sound – 13km – This part of the route is along Clew bay and will take 1- 1.5 hours cycling or3- 3.5 hours walking.
Option to continue to Achill Island to cycle the island loop route in a day or stay in accommodation along the route. Send an enquiry  for accommodation requests. 
Things To Do
Price / Group Size
We Provide
Please Bring
Good To Know
Disability / Accessability
Reviews (0)
Things To Do
There are so many sights to see.
1 Day – Bus to transport you and your bike to Achill so you can cycle from there back to Westport.
2 Days – Discover Achill Island with its stunning scenery, beaches and the highest sea cliffs in Europe. Accommodation can be organised for you in Achill if you want to stay overnight. Take the shuttle bus to Achill, spend the day cycling the island at leisure and on the following day cycle the Greenway back to Westport.
Price / Group Size
Tour Times
The bike hire can be made at any time during the day but best to hire in the morning. Open all year round by appointment.
Morning in Westport. 
A Bus departs 10 am and 12 am for Achill Sound if you want to do a 1 day one-way cycle at leisure. Limited spaces and not running in 2020
Price
All Rentals are per day. You may want a kids seat or trailer. 
Bike                        €30
Electric Bike          €50
Fuji Touring Bike  €45
Kids' Bikes             €20
Kids' Trailer          €20
Child Seat              €15
Group Size
2-10 people
We Provide
Bikes ( regular trail bikes, Fuji Touring Electric, kids) , helmet, Hi-viz jacket, lock optional.
This is a self-GUided trip with Map. OPtion to book Accommodation on route.
Please Bring
Walking shoes or runners for cycling. 
Wear layers of clothing, waterproofs, drinks & snacks in a backpack.
Sunscreen in Summer.
Good To Know
The Great Western Greenway is 43.5 km long and there are 3 places to stop for refreshments along the route. Bring water and snacks in a backpack.

The Great Western Greenway is family-friendly with some kids' bikes, trailers or car seats for small children. There are a number of electric bikes for those less used to cycling. The touring bikes would be more suited to those who intend to spend a day cycling on Achill Island

Always wear a helmet when cycling. If wearing long trousers tucked into socks for safety.

Wear bright visible clothing and bring weatherproof clothing.

Bring a phone to take photos but do not wear earphones when cycling.

Plan the route so you can stop for a rest and food at the different points along the way.

This route is off-road but crosses junctions, bends and entrances, so take care and anticipate walkers or drivers' actions at these junctions and along the route.

Cyclist should always give way to walkers on the route, leaving plenty of room. Stop or slow down as necessary.

If travelling in a group of cyclists always warn cyclists behind you of hazards ahead.

Be courteous and respectful of other cyclists or walkers along the route.

Leave no Trace- make sure to take any refuse with you and dispose at trail-head bins.
At Activity Days, our priority is your safety, well being and enjoyment of this activity. Please note the following;

It is your responsibility to bring adequate clothing, footwear and equipment where specified. Please note that the guide may refuse participation in the activity if you fail to do so and your activity fee will not be refunded.
It is your responsibility to ensure that you meet the fitness criteria prescribed for this activity. Please note that the guide may refuse participation in the activity on this basis and your activity fee will not be refunded.
Please note that we and our guides reserve the right to refuse participation in the activity if you are intoxicated, if refuse to comply with the instructions of the guide, if there is a risk to your safety or the safety of others for any reason, or are deemed unfit or unable to participate (in the reasonable opinion of Activity Days or the Guide). In this event, your fee will not be refunded.
Please refer to our terms and conditions of sale for more information.
Disability / Accessability