Kerry Hikes and Longer Walks
maire
Kerry Hikes and Longer Walks 
Kerry has Ireland's highest mountains and to climb as safely as possible a guide is strongly recommended. These walks are longer, much more difficult and strenuous and need a high level of fitness, suitable footwear, clothing and planning to do complete safely. Contact us for guides as they need to be booked well in advance. Our guides are the local experts and take a maximum of 10 people in a group.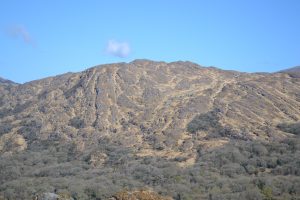 We have details on the loop walks in other blogs of information on Kerry.
Killarney Walks and Ring of Kerry Loop Walks

Dingle Loop Walks and North Kerry Walks
Strenuous walks need guides to ensure your safety and that of members of the Kerry Mountain Rescue Team who have to recover people who are lost or injured. These are the most popular strenuous walks in Kerry.
1. Old Kenmare Road.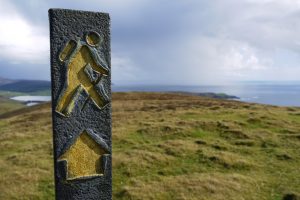 Distance – 10km linear walk. Difficulty -Medium fitness – Level 3 .
The Old Kenmare Road is a walking trail through the uplands of Killarney National Park. The trail starts from Killarney town and the first stage takes you to Torc Waterfall. To complete the route easily in 1 day take the bus or a taxi from Killarney to Torc Waterfall and start the walk at the upper car park (turn off N71 after the main Muckross House entrance) to a small car park.
The route takes you along the shoulder of Torc Mountain, along the Owengarriff river and then down left for Kenmare along a muddy trail. Torc mountain rises to your right and you travel the mountain path through the national park. You might see red deer and  mountain goats. Some of the paths have railway sleepers along some of the muddier sections. The route drops down through an oak wood and eventually over a wooden bridge to the narrow paved road and on to Kenmare.
If you can bring a car to Kenmare and leave another one at the car park by Muckross House in Killarney then you can easily drive back to Killarney at the end.  Dogs are allowed on the route, but keep them on a lead as they might run off after a deer and get lost. Bring food and drinks for the route.
Climb Kerry Mountains
2  MacGillycuddy's Reeks Ridge Walk –
This is a wonderful walk up to 915m above sea level, and up to Carrauntuohill, Irelands highest mountain. The walk is best started at dawn as it takes 7-9 hours and is 18km long. Guides for groups can be organised in advance or you can join a guided group. This is weather dependent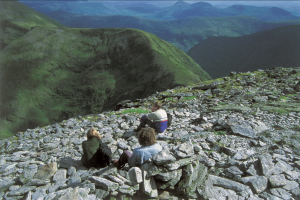 3. The Black Valley  – The walk to Glencar walk takes you through a lonely valley along a way-marked route. This is 20km long and is a difficult walk taking over 6 hours and an assent to 480m.
4. Purple Mountain Walk on the west side of Lough Leane from Kate Kearney's Cottage.
5. Coomloughra Horseshoe – this is a guided walk for people who are very fit and have already completed the easier walk of Carranuathill on a previous day
6.  Mount Brandon is west of Dingle, takes 4 to 5 hours to climb and is 952m high.  It overlooks the sea  and is a great climb which older teenagers will relish, The scenery is amazing and if you have energy there is also a ridge walk which can be used for descent.
7.  Kerry Way
Distance 200km
The Kerry Way is over 200km long starting and finishing in Killarney and takes about 9 days. The walk loops around the Iveragh Peninsula in an anti-clockwise direction. This route avoids the high peaks and stays at the lower mountain ridges. Take a boat across the Lakes of Killarney, walk though the Black Valley and you can return to Killarney in one day. The other towns and villages on the route are Caherdaniel, Caherciveen, Glenbeigh, Glencar, Kells, Kenmare, Sneem, Waterville.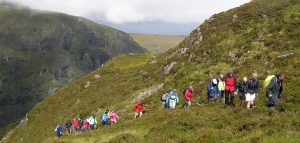 8.   Dingle Way
Distance 179km
The Dingle Way is one of the longest and best-known walking routes in Kerry and takes 8 or more days. It starts in Tralee, passes through the village of Camp and from here it loops clockwise around the peninsula. It passes over the mountains to Annauscaul and into the town of Dingle. From there the route goes around Dunquin, on to Mt Brandon, Cloghane on the northern side of the peninsula then  back to Tralee via Camp. Why not walk a part of the route, or pagan the full route in a week.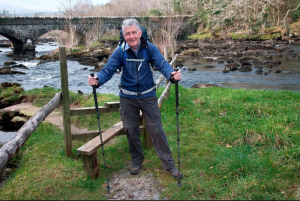 9.   North Kerry Way
Distance 48km linear walk.
The North Kerry Way is a linear route which takes about two days to complete. The route heads out of Tralee with the Dingle Way to Blennerville with its fine traditional windmill: there the routes part and the North Kerry Way travels north-west along a sea wall at the back of Tralee Bay. From the village of Spa, it goes cross country onto the white sands of Banna Strand to reach the village of Ballyheigue and the beginning of a scenic mountainous area on Kerry Head which it loops around before finishing at Ballyheigue.
Other articles on the Kerry area are:-
Contact Activity Days Ireland with any comments or photos on this post- we love recommendations.  Thre are guided tours for individuals and groups can be organised in Co Kerry –  contact ActivityDays.ie