Dublin Top 10 – Literature Dublin
maire
Dublin Top 10 – Literature Dublin
Ireland has  a great literary tradition and has produced many writers over the years, whether in fiction, drama or poetry. Famous names from the past include Jonathan Swift, James Joyce, W. B. Yeats and Oscar Wilde,   while more recent names include Edna O'Brien, Seamus Heaney,  Maeve Binchy and Roddy Doyle. Some say the literary impetus springs from the  oral tradition of fili, ancient poets who composed verse to honour the Gaelic chiefs who employed them, and the  seanachíe, storytellers who had a respected place among the ordinary people in traditional Ireland and whose style is kept alive to this day with storytelling groups and events. Whatever the origin Irish writers have had great success both at home and abroad and Ireland can claim four winners of the Nobel Prize for Literature. Dublin has been a UNESCO City of Literature since 2010 and the Dublin Literary Award is one of the most prestigious in the world.  In other ways the city celebrates our great writers with pubs such as the Oliver St John Gogarty and bridges such as the Samuel Beckett.  Statues honour writers and there are a number of museums and centres which are a must for anyone interested in finding out more about some of our finest authors.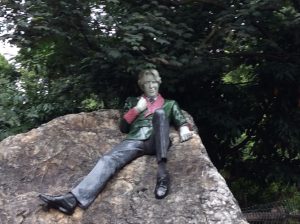 1  MoLI – Museum of Literature Ireland 
86 St Stephen's Green.
Based in beautiful Newman House on St Stephen's Green, this is Dublin's newest major museum and is dedicated to Ireland's greatest writers. Storytelling has been an essential part of  Ireland's heritage for centuries and MoLI brings this rich inheritance to life through a series of immersive multimedia exhibitions and artefacts.  The giants of Irish literature come alive and exhibits include the first edition of Joyce's Ulysses. The Museum is a collaboration between University College Dublin and the National Library of Ireland. There are many resources online, but you may like this walk in Jonathan Swift's Dublin with a downloadable map. All areas of the museum and galleries are fully accessible to wheelchairs, guide dogs are welcome and there are accessible toilets. For further information click on this link. The garden to the rear is an oasis of tranquillity in the bustling city centre. Entry fees apply.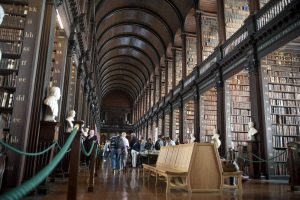 2.  Book of Kells, Trinity College
Trinity College Library. Dublin 2.
The Book of Kells is an illuminated manuscript of the gospels created by monks around 800AD. It was gifted to Trinity College in 1661 and is now on permanent display in the Old Library.  Included in the visit is a very informative exhibition and after viewing the Book you can go upstairs to visit the magnificent Long Room with its 250,000 ancient texts and also the Brian Boru harp. Tickets need to be booked online.   Take a 360 Tour of the Book of Kells on the link here and feel like you are in the Long Room of Trinity College Library
3  Marsh's Library, Dublin.
St Patrick's Close Dublin 8.
Marsh's Library, founded in 1707, is Ireland's oldest public library and is beside  St Patrick's Cathedral 15 minutes walk from the city centre. It holds 25,000 books and 300 manuscripts in languages such as Hebrew, Arabic, and Turkish. Manuscripts include The Lives of the Irish Saints in Latin dating to around 1400. Literary greats such as Jonathan Swift and James Joyce spent time in its reading room which still has the old cages in which readers used to be locked to prevent theft of the valuable volumes.  There are some interesting online exhibitions including the Rarest Book in the World, James Joyce Apocalypse and Medievalism,  Jewish Books in Marsh's  Library, Bookbinding in 18th century Dublin with some beautifully decorated books. The exhibition called Mapping History shows maps from the Armagh Robinson Library collection.
 Guided dogs and therapy dogs are permitted in the library but as it an old building there are no lifts for wheelchair access, and there are a lot of steps inside and outside this old building.  Entry fees apply and you can pre-book on this link. Tickets for groups can be organized as well as tours and events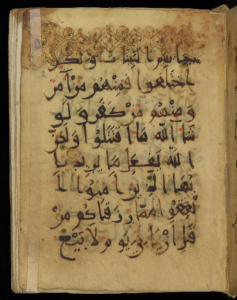 4  Chester Beatty Museum, Dublin.
Dublin Castle, Dublin 2.
Luas –  Trinity ( Green line). Bus 27, 49, 54, 77A, 123, 150, 151.
The museum is situated on the grounds of  Dublin Castle on Dame Street and houses the collection of Sir Alfred Chester Beatty who collected artefacts from various world cultures. It includes Christian treasures such as illuminated gospels and early bibles, 15th century Qur'ans and Burmese early Buddhist texts. Described by Lonely Planet as one of the best museums in Europe, it's the place to visit to see treasures from the  Middle East, North Africa, China and other parts of Asia. Links to some In-Focus Audio Tours of the Chester Beatty  Museum with illustration and images from the Museum's Collection.
5   Writers' Museum,  Parnell Square.
19 Parnell Square, Dublin 1. Take Luas to the top of O'Connell Street.
The Writers' Museum dates to 1991 and is housed in a fine townhouse on Parnell Square in the city centre. The inspiration was to provide a one-stop overview of developments in Irish writing through the ages and literature is viewed from a Dublin perspective. Displays include a replica of the Book of Kells, an 1804 edition of Gulliver's Travels and a 1910 letter from W.B. Yeats. The museum holds exhibitions, readings and recordings and tours are available using audioguides. The building itself features beautiful decoration including stucco work by Michael Stapleton. Next door is the premises of the Irish Writers' Union. The title picture is of the beautifully restored  Writers Museum.
6   James Joyce Centre
35 North Great Georges Street, Dublin 1.
This centre is dedicated to one of Ireland's greatest writers who was known as the father of the modern novel. It's housed in a beautiful Georgian townhouse on North Great George's St just a few minutes walk from O'Connell St. It offers a wealth of information on Joyce and exhibits include the door to No 7 Eccles Street from 'Ulysses'  and a recreation of his living quarters in Paris. Walking tours available here will fill you in on much more of the literary heritage of Dublin. Entry fees apply.
Bloomsday is celebrated on June 16th each year when Joyce fans dress up in Edwardian outfits and follow the route taken by Leopold Bloom with readings from Ulysses and other events.  Places visited include Sweny's  Pharmacy at 1 Lincoln Place, Dublin 2, which is 'preserved through neglect' as Joyce would have known it and you can buy Lemon Soap as Bloom did and hear and take part in a reading from Joyce. Davy Byrne's pub on Duke St where Bloom had a gorgonzola sandwich and a glass of burgundy is 8 minutes walk away.  
7   James Joyce  Tower and Museum
Sandycove. Dart to Sandycove/Glasthule.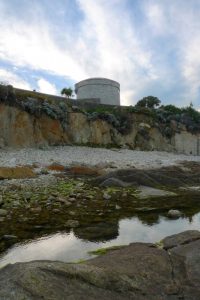 This centre is located in a fine example of a Martello tower dating from the early 1800s in the coastal suburb of Sandycove 30 minutes south of Dublin city centre. It was the setting of the opening scene in Joyce's masterpiece Ulysses and has a unique collection of Joyce memorabilia. A visit here will complement a stop at the Joyce Centre in the city centre as you'll be standing in a space in which the writer himself stayed for a time. Knowledgeable volunteer staff are on hand to deal with queries and they welcome individuals and groups.  You'll get great views of Dublin Bay from the tower and a trip from the city centre to Sandycove/Glasthule on the DART train also gives lovely coastal views. 
 8 National Library of Ireland
Kildare St, Dublin beside Government Buildings and National Museum.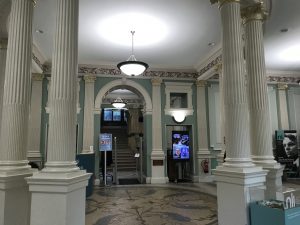 The National Library dates to 1877 and is on Kildare Street in the heart of Dublin, right beside Leinster House, the seat of the Irish government. It's been used  as a research facility by many writers over the years. It's a reference library with about 8 million items and access is free for anyone who wants to consult the collections for material not available through the public library service. Holdings include books, maps, manuscripts, photographs and an archive of Irish newspapers. An Online Catalogue can help with digital copies of newspapers, manuscripts, and digital photographs. These old glass plate negatives were digitised in 2007 and show images of Ireland from 100 years ago
It also holds occasional exhibitions and other services include genealogy.  There is a  History and Heritage tour on the second Saturday of each month. You can take a 360 tour of the Main Reading Room here. To access manuscripts for those with mobility issues, hearing loops or a reader for people with vision impairment contact in advance of a visit   pre-book here. There is wheelchair access to the Main Library building on Kildare Street via a ramp, bathrooms on the ground floor and a lift to each level of the building.  Guide dogs are permitted in the public area.
9 The Winding Stair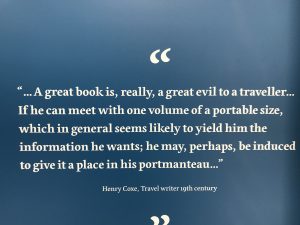 40 Lower Ormond Quay.
The Winding Stair is one of the oldest independent bookshops in Dublin and has been an important meeting place for the city's artistic community since the 1970s. Named after the Yeats poem and a building of great character the lower floors are crammed with books, both new and second hand, and you may find titles here which are not usually stocked by other shops. A restaurant/cafe using the best local ingredients is located on the top floor.
Contact ActivityDays Ireland to plan your holiday to Dublin, Cork and along the Wild Atlantic Way.