Traditional Christmas Eve Food in Cork
maire
Battleboard or Salt Cod or Ling
500g Slated Cork orLing or Battleboard from English Market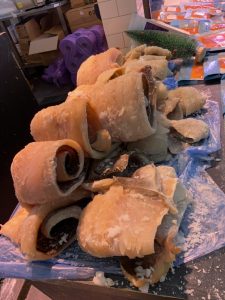 400 ml Milk
White Sauce
500 mil milk
25 g butter
25g flour
1 onion (diced)
1 Bay leaf and diced Parsley
Serve with Soda bread or Mashed Potatoes
Method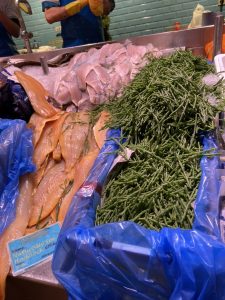 1 Soak the salted cod in water overnight, and. Change the water once or twice to remove the excess salt.
2 Piece the fish into strip. Place fish in a saucepan with with 400 ml milk ( approx) to cover the fish bring to the boil and simmer gently for 30 mins, until fish is tender but not falling apart.
3 Make the white sauce – Melt the butter in a saucepan and gently sauté the onion for 5-10 mins. Add the flour and cook gently for 2-4 mins. Gradually add the 500 ml milk and bring to the bold while stirring. Add the Bay leaf and some pparrsely and simmer gently for 10 mins.
4 When fish is cooked gently put off the milk and add the fish to the white sauce. Serve in a bowl, garnished with diced parsley with soda bread and butter on the side.
Why the Name?
Battleboard or Bacallau (Portugal) is traditionally served in Cork on Christmas Eve, and is sold at the English Market. Cod was highly prized in days past as it was a deep sea fish and rare to buy. It was tradionally salted and kept for Christmas Eve as part of the Food Culture. Ling has been readilly available in recent years as the fish is easily caught off the south Irish coast by the Gas fields.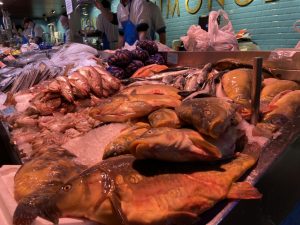 The dish allowed the mother of the family to get all the Christmas preparations done on Christmas Eve. In recent years the fish was bought from the English Market well in advance, soaked and served on Christmas Eve to all the family. The name Battleboard or a 'Trail to the Pub' as it tastes so salty! Polish people living in Cork can by Carp for the traditional dish on Christmas Eve, also from teh English Market