Ferry to Ireland from Europe and via UK
maire
Best Ferry to Ireland from Europe
Ireland is a great place for a holiday in 2021 when travelling in your own car from Europe. Among the many highlights is the Wild Atlantic Way on the west coast of Ireland which at 2,500km is the world's longest defined driving routes.  Let ActivityDays help plan your holiday with accommodation and guided activities along the entire stretch. We have blogs on the best beaches in Ireland, driving in Ireland,  guide books to Ireland, Best Lighthouses, festivals, ancient sites and other information to help you plan your holiday. There are direct ferries to Ireland from Europe or you can travel via the UK landbridge.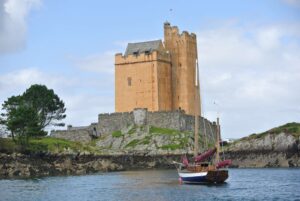 Passport and Covid-19 Requirements
A valid Passport, proof of Covid-19 vaccine or  Covid-19 negative test must be taken within 72 hours before departure. Please carry the negative test declaration or Covid-19 vaccine information with your passport. For the most up to date Government advice on travel please visit https://bit.ly/2LJmOWe if you're in the UK and https://bit.ly/34tFwbb if you're in Ireland or your Government site.
Cost of Ferry – The cost of a ferry to Ireland varies seasonally and we recommend a direct ferry from Europe so you arrive in Ireland rested.
Types of Ferry Tickets – Ferry rates also depend on whether you are a foot passenger, a motorcycle driver, a car with or without passengers or a camper van.
When Cheapest – Ferries can be booked months in advance and are cheapest in the low season – before May and after September. Cabins are normally included in the cost of ferries from Europe.
Travel via UK Landbridge – If you travel via the UK landbridge the individual ferry trips may be cheaper, but you have to allow for the cost of fuel in UK Sterling and meal costs when travelling through the UK as well as customs to be checked twice.
Currency in Ireland – The currency in the Republic of Ireland is the Euro and driving is on the left side of the road.
Best Driving Route – The Wild Atlantic Way route is ideal for exploring by car or camper van. It is not possible to travel by bus along large sections of the route.
What Can ActivityDays Organise – ActivityDays can book your ferry trip, accommodation in Ireland (hotels, self-catering or glamping) as well as a wide range of activities along the Wild Atlantic Way.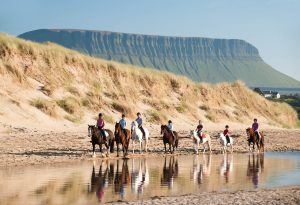 Driving time from Irish ports to Cities
Rosslare to –
Cork 2hrs 35mins,
 

Dublin 2hrs 30mins,
Rock of Cashel 2hrs.
Dublin to –
Cork 2hrs 50mins, Killarney 3hrs 40mins, Galway 2hrs 25mins
Limerick 2hrs 20mins,
 

Sligo 2hrs 45mins, Belfast 1hr 55mins.
Belfast to
–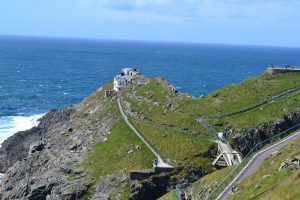 Derry 1hr 30 mins, Donegal 2hrs 10 mins,
Sligo 2hrs 35mins,
 

Ballina 3hrs 25mins,
Galway 3hrs 50mins,
Limerick 3hrs 55mins,
Cork 4hrs 25mins.
Ferry Direct from Europe
In the information here we detail the ports of departure and arrival, frequency and length of the voyage
Country

Port Depart and  Arrival in Ireland

Booking Company

France
Cherbourg to Rosslare

 

New Route for 2021 starts on 22nd March.  Four ferries per week taking 16 hours.

Brittany Ferries  or Stena Lines

 
Roscoff to Cork. 

 

Two ferries per week on Saturday and Wednesday taking 14 hours

Brittany Ferry's

Spain
Bilbao to Rosslare

 

Two ferries per week taking 27 hours

Brittany Ferry's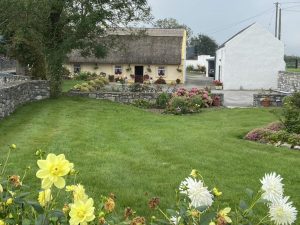 Routes from England, Scotland and Wales to Ireland
Port in the UK

Port

 

Arrival in Ireland, Frequency and length of Sea trip

Ferry Companies

PembrokeFishguard, South Wales, UK
Rosslare, Wexford

Irish Ferries &

Stena Line

Holyhead, North Wales, UK
Dublin

 

8 sailings per day, taking 3hrs 35mins.

Stena Line or  Irish Ferries

Liverpool, England

Belfast

P&O Ferries

Cairnryan (Stranraer)   Scotland

 

Larne or Belfast

Ferry daily taking 2 + hours

Stena Line or P&O Ferries
At present, with Covid-19 causing lockdowns all over Europe we hope it will be sorted by March and you can start booking your holiday in Ireland. The beaches have all got free access, with lots of activity with the best local guides and a wide range of outdoor activity to choose from on Activity Days. There are green fields, winding quiet country lanes and lots of picturesque sites and routes. Ireland has a small population and has to take Covid-19 restrictions very seriously. Accommodation and activity providers have a Covid Safety Certification. This means they may have less space on activity trips that in previous years – so plan to book early to avoid disappointment. Experience the Best Ireland has to offer with Activity Days.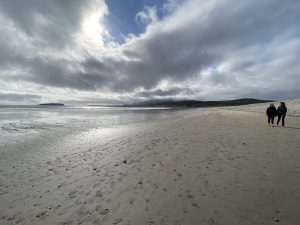 Have you any other questions on ferry trips to Ireland? Want a holiday in Ireland planned for you with accommodation and activities organised for your holiday. Fill in the enquiry form with details of your interests and requirements.
Routes from European Mainland to United Kingdom
Country

European Ferry Port To UK Port

Ferry Companies

From France to the South of England

Calais via Eurotunnel to Folkstone Kent 

Calais to Dover

Dieppe to Newhaven –    Many daily crossings, Taking 4 hours.

 

P&O Ferries

Brittany Ferries

Belgium, Netherlands,

to Northern England

Hook of Holland to Harwich

Rotterdam and Zeebrugge to Hull –  Overnight ferry to Hull from Belgium with access to Rotterdam from Zeebrugge, taking 13 hours

Amsterdam to Newcastle –   Overnight Ferry from Amsterdam

Stena Lines, 

 

P&O Ferries

 

 

Spain to U.K

 

 

Santander to Plymouth –  2 crossing with the voyage of 22 hours

Bilbao to Portsmouth –  2 crossings a week with 24 hours voyage.

Santander to Portsmouth – 3 sailings a week, 24 to 28 hours voyage

   Brittany Ferries
Contact ActivityDays Ireland to organise Activity and Accommodation in Ireland as you drive the Wild Atlantic Way. The best drives, visitor attractions, walks, island trips, boat trips and local experts are all to be found on Activitydays.ie Accommodation is Self-Catering, Glamping or family-run Hotels. We offer a wide range of options for small groups and self-drive families. Contact us well in advance for booking that magical holiday in Ireland.