Best Beaches Sligo and Leitrim – Wild Atlantic Way
maire
Best Beaches Sligo & Leitrim – Wild Atlantic Way
Sligo and Leitrim sit side by side in the north-west of Ireland. Leitrim has a coastline of only 4km and is better known for the beauty of its inland scenery
Sligo is much better known for its beaches with some good ones for safe swimming and surfing the Atlantic waves. To the south of Sligo is Enniscrone famous for its Seaweed Baths and for surfing. 
1.  Streedagh Beach
Streedagh Beach is about 3km off the N15 Sligo to Bundoran Road on L3202. The long sandy beach is on a sand spit, backed by dunes and a long car-park. The vibe is surfer cool with all sorts of vans and cars with surf-boards on top. There are no lessons or rental of boards here, just the local surfing community. The beach is great for surfing with big waves breaking to the shore. It's also good for walking but is not suited to swimming. It feels very natural with no toilets, cafes or houses, just wild Atlantic wind and surf. Go horse riding along the beach for a new experience on the Wild Atlantic Way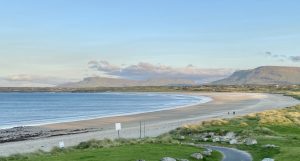 2. Mullaghmore Beach
Mullaghmore is a fishing village 26km north of Sligo and just off the N15. Just before the village is the famous Classiebawn castle where Lord Mountbatten had a summer home (See the Crown series 3). The beach is perpendicular to the road and is backed by sand dunes. It's a  family-friendly beach protected from the wind by the land so the smaller waves make it safe for swimming. It's also good for walking and building sandcastles and it rarely feels too crowded. There is a small car park and specific disabled parking with a ramp down to the beach.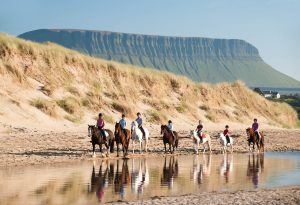 3.   Rosses Point
Rosses Point beach on the headland to the north of Sligo town has a long sandy beach backed by dunes which is great for swimming and surfing. A hotel, a cafe and a small number of houses sit well above the beach and car park, but it does not feel over-developed. The metal man built-in 1821 is a 4-meter statue on top of a stone navigation beacon sitting off-shore. There are toilets in the car park, a lifeguard on duty and the cafe gives a relaxed vibe to the resort. Dogs are welcome on leads. 

4.  Strandhill Beach
From Sligo town take the R292 south for about 7km to Strandhill village and its long beach famous for swimming and surfing. There are great views of Sligo Bay, long dunes behind the sandy beach and dramatic Ben Bulben mountain in the distance. The surf is considered one of the best in Europe with large Atlantic waves all year round and the National Surf Centre is due to open in 2021.
Plan a surf lesson here when on holidays in the early morning or afternoon. There are lifeguards in the high season, but due to strong currents, swimming is often forbidden.  The village has shops, cafes and bars, Strandhill Links Golf Course and a number of surf shops.   You must keep your dog on a lead on the beach.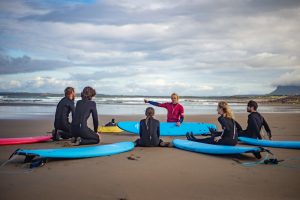 5.   Enniscrone
Enniscrone beach off the N59 between Sligo and Ballina is a 5 km long sandy beach on the Wild Atlantic Way. Enniscrone is known for surfing and it's a great beach for walking, especially at low tide. Enniscrone Links Golf Course is beside the beach, an 18 hole course with lots of dunes and one of the top 100 courses in Ireland and the UK. 
Enniscrone beach has a wheelchair available (pre-book). Car parking and toilets are available at the beach. Dogs are allowed on a lead. Enniscrone village has cafes, bars and seaweed baths.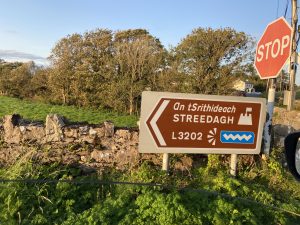 Contact us with any comments on this post- we love recommendations.  Thre are guided tours for individuals and groups can be organised in Co Sligo –  contact ActivityDays.ie