Best Beaches of the Wild Atlantic Way – Kerry
maire
Best Beaches of the Wild Atlantic Way – Kerry 2021
As well as some of Ireland's best scenery Kerry also has many great beaches, of which ten are  Blue Flag beaches. I have listed 15 beaches here with all the Blue Flag ones,  along with a few of my other favourite Kerry beaches. This includes family-friendly beaches, wild swimming beaches, wheelchair friendly beaches, beaches you can bring dogs on – Kerry has them all.
 Some beaches are in well-developed seaside resorts while others are more difficult to find and hidden gems such as Cúm Uí Dhíneoil in the  Chorca Dhuibhne Gaeltacht at the western end of the Dingle Peninsula. The other smaller  Gaeltacht in Kerry is the area known as the Skellig Ring at the western end of Uibh Ráthaigh  (Iveragh Peninsula). Disabled wheelchairs are available at Ballinskelligs, Inch and Ballybunion. Kerry Co Council also provides moveable matting to allow wheelchair users to access the beaches at Ballinskelligs and Ballyheigue.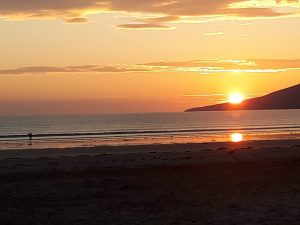 An áit is áille ar Domhain (most beautiful place on earth) National Geographic
1. Derrynane
Derrynane Beach and Historic Park on the Ring of Kerry near the tip of the Iveragh Peninsula has been named as one of the top 10 Green Flag sites in 2020 and the only Irish site to make the list . It joins other world-renowned sites on this prestigious list which rewards well-managed parks and green spaces. In the little village of Caherdaniel turn down to the sea beside the red pub.
This hidden gem of a beach is unlikely to have tour groups, as it's just off the main Ring of Kerry. Pass Ogham stones standing in fields along the narrow lane to the stunning natural Derrynane Bay. The area has a microclimate caused by the warm Gulf Stream as in West Cork. The climate is milder and wetter, allowing subtropical plants to grow. Car parking and toilets are behind the dunes but there are no disabled facilities and access to the beach is difficult through the dunes. You can access the water at Derryname pier, but it's not very relaxing. The soft sandy Blue Flag beach is locally called Danger Beach,  as there can be strong rip tides and currents in the bay. There is a lifeguard on duty in summer but this beach is only suited to expert swimmers when there is no lifeguard on duty.
The surrounding scenery is beautiful and Daniel O'Connell's home is close by at Derrunane House – now open to the public for tours.
2. Ballinskelligs Beach
Ballinskelligs Beach is on the southern side of the Skellig Ring (R566) , which is off the Ring of Kerry ( N70) on the Iveragh Peninsula. The Blue Flag beach overlooking St Finian's bay is a soft, clean,  sandy beach over 1 km long with plenty of parking, a coffee shop, toilets and lifeguards in summer. The beach is a favourite for families due to its safety and easy access.  Kerry Co Council provides moveable matting and a beach wheelchair at Ballinskelligs  for wheelchair users (pre-book the buggy)
The pier at the western end of the bay allows access to the water for wheelchair users. The ruins of Ballinskelligs Abbey and a MacCarthy castle overlook the bay and it is a great place for swimming and water sports. Skellig Chocolates is nearby, there is a clifftop walk overlooking the Skellig Islands and boat trips around the islands operate from nearby Portmagee.
3.White Strand  Beach, Caherciveen
White Strand, at Doulus Head beach, is an unspoilt Blue Flag beach 6.4km from Caherciveen town and forms part of the Iveragh Peninsula Special Protection area. The beach looks west towards Valentia Island and Beginish Island which give it protection from the large waves making it safe swimming for families. You will pass impressive Cahergall Stone Fort on the way from Cahirciveen. Signposted from the N70 before Caherciveen as well as from the town over a bridge.
4.  Rossbeigh  Strand
Rossbeigh Strand is just over 1.5 km from the village of Glenbeigh on the N70 Ring of Kerry road. The Blue Flag beach on a long sandpit is good for swimming, has plenty of parking and a lifeguard in summer. It's great for walking and horse riding as it is over 2km long. You can surf when the waves are high enough.  It's not suited to wheelchair users.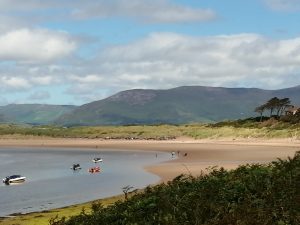 5.  Dooks Bay Strand
Dooks Beach is a sandy sheltered beach 4km from Glenbeigh village and 12km from Killorglin on the Ring of Kerry. There is no official car park and access for wheelchair users is limited. Eighteen hole Dooks Links golf course beside the beach offers great views of Dingle Bay.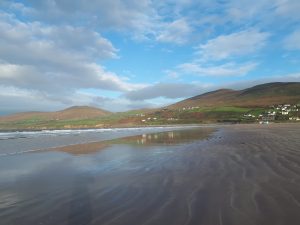 6.  Inch
Inch Beach is beside the R561 Castlemaine to Dingle Road and is a 5km long sandy beach with sand dunes behind it. The Blue Flag beach is on a sandbar looking west along Dingle bay and because it's so long it rarely feels too busy. This beach was used for filming horse riding scenes in Ryan's Daughter in 1969.
The beach is great for surfing, swimming and walking the length of the beach. A car park, toilets and the well known Sammy's Restaurant and shop are at the entrance to the beach. There is access for wheelchair users and cars can drive onto the beach. Kerry Co Council provides a beach buggy at Inch for wheelchair users (pre-book the buggy), and due to the compacted sand, it's easier to use a wheelchair on this beach.  My dog loves this beach for a run along the strand or in the dunes.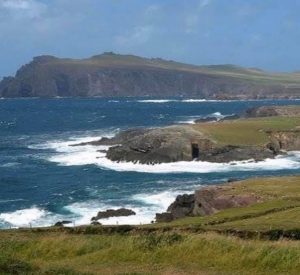 7.  Wine Strand and Béal Bán, Baile an Fheirtéarigh
West of Dingle is a Gaeltacht area with most road signs in Irish only. There are beaches close to Baile an Fheirtéarigh (Ballyferriter) which are all family-friendly. Wine Strand (Trá a Fhíona) in sheltered Smerwick Harbour is a long sandy beach where wine used to be landed in previous centuries. Béal Bán (White Mouth) is a sandy beach close to the village. The sea bed slopes gently so it's hard to get out of your depth making it ideal for families.
8.  Coumeenole, Dunquin
Cúm uí Dhíneoil is the Irish for the bay (Coumeenole) in Dun Chaoin (Dunquin)  on the Slea Head  Drive (R559), in the Irish speaking Gaeltacht west of Dingle town. The beach is on the western tip of Slea Head after the Blasket Centre. A narrow road (limited parking at the top) leads down to the small, beautifully sheltered sandy beach. The waves here can vary in strength from gentle to very rough ones crashing against the cliffs so the beach is suited only to good swimmers. I spent many happy days as a child on this beach with a bucket and spade.  Arrive early in the day and bring a picnic as there are no facilities. The views of the Blasket Sound are amazing any time of the year, but the beach is open to the full force of the westerly winds and is not wheelchair friendly. Sea safari trips from Dingle towards the Blasket Islands organised here/
Clochar beach ( in Spectacular Slea Head photo above)  is nearby but is not suited to swimming as the tides are too strong and there is a dangerous undertow.
9. Great Blasket Island Beach-Remote Beach
Trá Bán, Blasket Island, Slea Head. This is one of the most inaccessible beaches on the Wild Atlantic Way. Take the ferry from Dunquin to the Great Blasket Island and you will see this long sandy beach to the right of the pier as you come ashore. The island is only inhabited part-time but there is some accommodation in summer. There is a cafe but drinking water on the island is limited so bring your own and maybe a picnic to eat on the beach. Paddle on the beach or swim with care as currents can be strong, avoid the seals who can be aggressive and take advice from the boatmen on safety. It's not wheelchair friendly. Keep your dog on a lead as sheep are kept on the island in summer.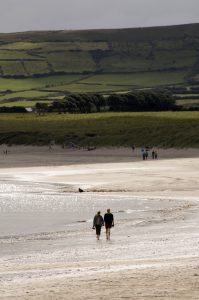 10.  Ventry Beach/ Ceann Trá
Ceann Trá (Ventry) means fine sandy beach,  is 8km west of Dingle town. The sandy blue flag beach is over 3km long with dunes and a small lake behind it and a small pier by Ventry village. The sheltered beach offers safe swimming and paddling for families and it's a good spot for a picnic. There is a large carpark, toilets and lifeguards in summer.
11. Mahgherabeg 
Magherabeg  Beach  is  a long sandy beach on the Magheeres Peninsula  3km north of Castlegregory on the northern side of the Dingle Peninsula. The Blue Flag beach is about 6km long, on a sand spit facing Brandon Bay with the Kerry mountains rising behind it. The dunes are a Special Area of Conservation.
Nearby Fahamore has a  shop and bar. A lifeguard is on duty in summer and it's a great beach for swimming and water sports such as surfing. Dogs are welcome on a lead.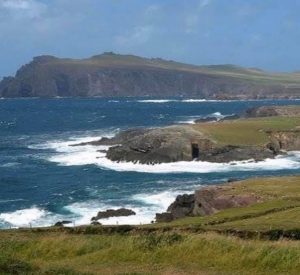 12.  Banna Strand
Trá a'Beannaí -Banna Strand is a long sandy Blue Flag beach 12 km from Tralee just beyond  Ardfert.  It meets Ballyheigue Beach over 3km away making a total of 10km. There are parking facilities, toilets and some caravan parks behind the long dunes. Due to its size, it never feels too crowded.
13.  Barrow Beach, Fenit
Barrow Beach in Tralee Bay is just below the fairway of Tralee Golf Club on the R558 from Tralee within an area of Special Conservation. The  Blue Flag beach has sandbanks and you need to be careful not to get stranded on the incoming tide. Fenit Island is a sandbar connected to the mainland which you can walk over although cars can only use it at low tide. This is a hidden gem of a quiet beach.
.
14.  Ballyheigue Beach
Ballyheigue Beach is a 5km long sandy Blue Flag beach beside the village of the same name. It's connected to Banna Strand to the south and Kerry Head to the north, giving over 10km of strand ideal for walking. The beach has a lifeguard in summer, a children's playground and is suited to family swimming and surfing.
There is a car park and a moveable matting for wheelchair access.
Ballyheigue Castle Golf Club is to the north of the beach and there are hotels and holiday parks in the village. Dogs are welcome on leads.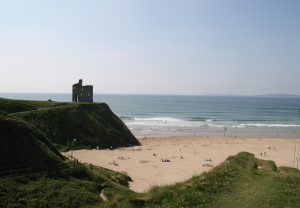 15.Ballybunion South Beach
Ballybunion Beach is a long sandy Blue Flag beach to the west of the town which has attracted families for generations. The beach to the left of the ruined castle is called Men's Beach and the one to the right is Ladies' Beach, given that men and women used to swim separately in the past. It's a great place for safe swimming and watersports and there is ample parking, toilets and lifeguards in summer. Kerry Co Council provides a beach buggy  for wheelchair users (pre-booking necessary) or matting to allow wheelchairs users to access the beach.
To the right of Ladies' Beach are high cliffs and shallow caves to explore. There is also a cliff walk with great views including sea stacks and a blowhole.
For a quieter beach take the cliff walk to 'Nuns' Beach' which is a 20-minute walk along the cliffs to the north of the main town beach.
Contact us with any comments on this post- we love recommendations. We are also missing some great photos of Kerry beaches – so if you would like to share please contact us.  Thre are guided tours for individuals and groups can be organised in Co Kerry –  contact ActivityDays.ie